There several methods of getting hold of Bitcoins, you can mine for them (by either using your own hardware or using cloud services), buy them using monetary currency, make use of Bitcoin faucets or you can earn Bitcoins by playing games.
I was able to find the following iOS games in the App Store. If you know of any other iOS games with which you can earn Bitcoins, leave a comment below.
Game of
Birds
SaruTobi
Bitcoin
Aliens
Free
Bitcoin
Abundance
Wheel of
Bitcoin
Place bombs (different types) to free the bird. Each field to be cleared also contains one or more coins. If the bird catches the coins you will be able to make a claim. The possibility of being able to make a claim is depended on whether or not MandelDuck has 'bits' (satoshi) available. If you are able to make a claim the payout is instant. Each coin is 100 bits (1000 satoshi). During the Christmas-period it was 110 and 120 for a while. The latest update now presents a short advert (video) when you make a claim.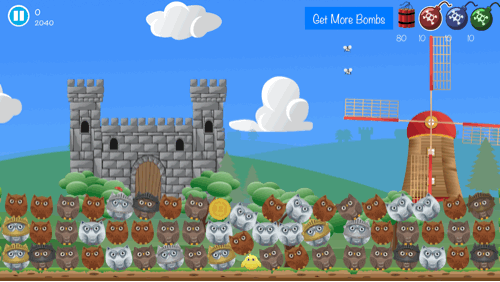 Game of Birds
The app has the option to sent you a push notification when bits have been added.
In my case it is linked to a Bitcoin address via Coinbase and when I switch to the Coinbase app on my iPhone the payout is already there.
You will only be able to make a claim every 15 minutes and there is also a maximum of 10 (?) claims per day, so you won't get rich.
SaruTobi by MandelDuck - free
Collect bananas and coins. The bananas can be used to buy in-game power ups
The game provides three types of game play
Swing as far as you can
Swing from rope to rope and collect bananas, coins and letters (to make the word Bitcoin)
Swing and crash into a wall to break it down
The coins collected (you can have a maximum of three coins) can be used to buy Bitcoins. For each three collected coins you can make one claim for 100 bits (1000 satoshi). This make it also a bit 'harder' to earn Bitcoins than is the case with Game of Birds.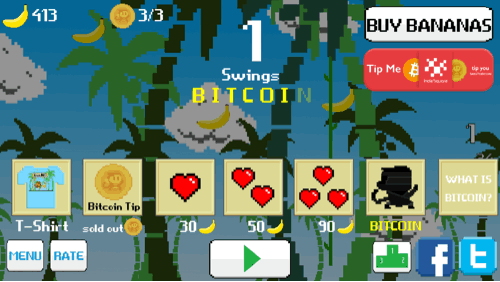 SaruTobi
Most of the time they are sold out. There is also push notification for this game, so you don't have to check it constantly by yourself.
Pays out after balance reaches 20000 satoshis (requires sign up using email address, after which you can provide your Bitcoin address for receiving payouts).
Since this (and the next two apps) require your email address you will be added to a mailing list! Payouts are supposed to be on Tuesdays. Over a couple of days using the three games by Daniel Bainbridge) I managed to collect 35981 satoshis.
The game has two modes
Mission - Kill a random list of selected aliens (playable every three hours)
Kill an alien - Kill a single random alien (endless but the longer you play the lower the rewards)
Free Bitcoin by Daniel Bainbridge - free
This game make use of the same balance as the previous mentioned game (Bitcoin Aliens). The game has three modes, after playing you will have to wait 60 minutes to be able to play again
Crazy - Multiple BIG chances, massive rewards
Modern - Random multiplier, big rewards
Classic - No surprises, just some free Bitcoin!
Don't get your hopes up by the terms big and massive. The numbers are high but since it are satoshis, the earnings are low. But any little bit counts…
Abundance by Daniel Bainbridge - free
This game make use of the same balance as the previous mentioned games (Bitcoin Aliens and Free Bitcoin). This is basically the same type of 'game' as Free Bitcoin. Every hour you get a new quote and a chance to earn some satoshi.
Wheel of Bitcoin by Tiny Bytes - free
I this game you have to spin a wheel to earn bits/satoshis, each spin you will get a chance to claim or spin again to get double or nothing. When the double or nothing was successful, you will be able to use the double or nothing bonus a second time. When you claim the bits will be deposited directly into your XAPO wallet. You can create your XAPO wallet here.
Each time you can claim three times, after that you will have to wait 30 minutes to try your luck again. You can turn on notifications to receive a message when you can make new claims.
After 15 claims the Frenzy mode is activated giving you a x5 bonus.
This application is no longer available.
NOTE: Be aware that all these games are supported using adverts. Not just picture ads, but also using short videos. So it is advisable to only play these games when you are on Wi-Fi or have an unlimited data plan.
---
Previous post
Using the Workflow app
Most of the time I need some screenshots from my iPhone I find myself performing the same tasks over and over again. Usually these steps are
Next post
Adding rounded corners to App Icons on the road
For the post Earning Bitcoins by playing games I want the include not only some screenshots from the applications, but also the application icons so