I have been using Blot.im as my blogging service for almost a month now and I am extremely satisfied with the service itself and even more so with the support giving by David Merfield via email and twitter.
This was a very welcome change after having used scriptogr.am for the last 3 years.
At first I was hesitant to start paying for yet again another service, $20 a year is not much but with all the other services I use it adds up. I but I am so happy I signed up for the service.
Thank you David for providing this wonderful service!!!
Folder structure
In the first couple of days using Blot.im I was still playing around with the structure within the Blot folder inside Dropbox. After playing around with the structure for a while I have settled for the following setup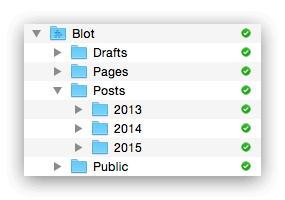 Drafts - Where I keep all the posts that I am still working on. I like this better than the method of prefixing the file with

'

draft' as shown in the Blot demo video.
Pages - Here I place all my Markdown files within which I have used the meta tag Page: yes.
Posts - Within this folder I created a folder per year which helps keeping things organized and clean. I am not a heavy blogger so having a folder per year is sufficient.
Public - Here I store all the images or files I link to in my posts
---
Previous post
Changing the look-n-feel of the Archives page
I was not completely satisfied with the way the Archives looked within the design template I was using. Default layout Desired
Next post
Great Ball Contraption (GBC)
In the beginning of this year I became aware about something called a Great Ball Contraption, GBC for short. Basically it is a 'machine' that has