Somewhere in December of 2014 I pledged for the Kickstarter project Plan V.
The following is an excerpt from the Flintu website, the creators of the Plan V:
Plan V works much like a car jumper cable. You simply connect a 9 volt battery to the Plan V device and then hook it up to your phone. And since these are square batteries you find in smoke alarms, they're about as widely available as chocolate bars.
The initial delivery date was set to March 2015 for the reward I had selected, but as with so many Kickstarter campaigns this has slipped. Throughout the campaign there have been regular updates to keep everyone informed on the status.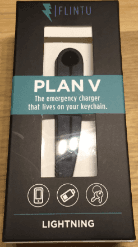 Plan V packaging
And finally this month I received my very own Plan V with a lightning connector.

Plan V closed  

Plan V opened
Perfect timing since I had a short vacation coming up, the perfect time to take it out for some field testing.
Charging my iPhone 6
The following table shows the charges I have performed with a single 9v battery. The battery I used is a non-brand version from a local supermarket chain.
| Before | After | Charge time | Activities |
| --- | --- | --- | --- |
| 79 % | 81 % | 30 min | Browse internet and save pages to PDF |
| 78 % | 83 % | 30 min | Device not used and in airplane mode |
| 77 % | 83 % | 60 min | Sleep mode, 3G active |
Sometimes the iPhone notices there is a charger connected for only a short period of time before displaying the message 'This accessory may not be supported'. Despite this message the iPhone does get charged (slowly).
Verdict
Although charging your device takes a long time, it is a nice backup charger if you did not bring an other backup battery.
One of the downsides with using batteries is that you can't really see what charge is left in them without bringing along a battery-tester. Another option could be to use 9 volt batteries which have a built-in strip to check its charge, like for instance PowercheckTM on the Duracell Ultra Power batteries.
---
Previous post
Dropshadows for images
The following piece of CSS code adds a dropshadow to an image which looks similar to the shadow that gets added by the application MiniShadow (€
Next post
Blogging on the road
With the recent move to Blot.im as my blogging platform it has rekindled my enjoyment for publishing something from time to time. I was going on a