I have been running the Raspberry Pi mining-stack for a couple of days and I noticed that only on two of the Raspberry Pi's the power LED was on. Although not all of the power LED's were on I still could connect to each of the Raspberry Pi's. After doing some reading up on the Raspberry Pi it turns out that those LED's will only turn on if the Pi's receives enough power.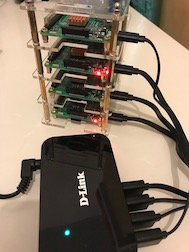 This made me decide to get a different power supply to power the Raspberry Pi's and ordered an Anker PowerPort 5 with 5 USB Ports 12A.
With this new power suplly the power LED on all the connected Raspberry Pi's are on .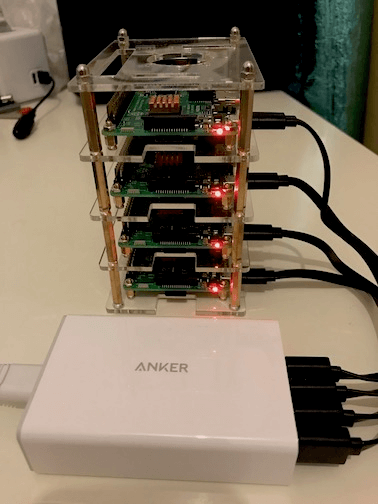 Also with the new power supply I seem to be getting a slightly higher hash rate, but that might just be coincidence.
** cpuminer-multi 1.3.3 by tpruvot@github **
BTC donation address: 1FhDPLPpw18X4srecguG3MxJYe4a1JsZnd (tpruvot)

[2018-02-02 19:05:41] Using JSON-RPC 2.0
[2018-02-02 19:05:41] CPU Supports AES-NI: NO
[2018-02-02 19:05:41] Starting Stratum on stratum+tcp://xmr.poolto.be:2999
[2018-02-02 19:05:41] 4 miner threads started, using 'cryptonight' algorithm.
[2018-02-02 19:05:45] Stratum difficulty set to 2500
[2018-02-02 19:07:39] CPU #3: 2.28 H/s
[2018-02-02 19:07:39] CPU #2: 2.28 H/s
[2018-02-02 19:07:39] CPU #0: 2.28 H/s
[2018-02-02 19:07:39] CPU #1: 2.27 H/s
[2018-02-02 19:08:32] CPU #3: 2.32 H/s
[2018-02-02 19:08:32] CPU #2: 2.31 H/s
[2018-02-02 19:08:32] CPU #0: 2.31 H/s
[2018-02-02 19:08:32] CPU #1: 2.29 H/s
[2018-02-02 19:09:15] Stratum difficulty set to 1613
[2018-02-02 19:09:17] CPU #3: 2.25 H/s
[2018-02-02 19:09:18] accepted: 1/1 (diff 0.000), 9.16 H/s (yes!)
[2018-02-02 19:09:26] CPU #2: 2.25 H/s
[2018-02-02 19:09:28] CPU #0: 2.20 H/s
[2018-02-02 19:09:28] CPU #1: 2.19 H/s
[2018-02-02 19:09:32] accepted: 2/2 (diff 0.000), 8.82 H/s (yes!)
[2018-02-02 19:09:45] Stratum difficulty set to 17743
[2018-02-02 19:10:13] CPU #3: 2.19 H/s
[2018-02-02 19:10:24] CPU #0: 2.16 H/s
[2018-02-02 19:10:24] CPU #1: 2.17 H/s
[2018-02-02 19:10:27] CPU #2: 2.20 H/s
[2018-02-02 19:11:11] CPU #3: 2.12 H/s
[2018-02-02 19:11:23] CPU #0: 2.06 H/s
[2018-02-02 19:11:24] CPU #1: 2.05 H/s
[2018-02-02 19:11:25] CPU #2: 2.10 H/s
[2018-02-02 19:11:45] Stratum difficulty set to 13341
[2018-02-02 19:11:58] CPU #0: 1.99 H/s
[2018-02-02 19:11:59] accepted: 3/3 (diff 0.000), 8.26 H/s (yes!)
[2018-02-02 19:12:11] CPU #3: 2.02 H/s
[2018-02-02 19:12:15] Stratum difficulty set to 95293.4
[2018-02-02 19:12:25] CPU #2: 2.03 H/s
[2018-02-02 19:12:25] CPU #1: 1.98 H/s
[2018-02-02 19:12:29] CPU #0: 2.00 H/s
---
Previous post
Building a mining-stack of Raspberry Pi's (rev 3 Model B)
During the holiday break I started thinking about building a little mining-rig using some Raspberry Pi devices. During the holiday break I normally
Next post
The greatest enemy of knowledge is not ignorance, it is the illusion of knowledge
— Stephen Hawking, 1942-2018 Rest In Peace